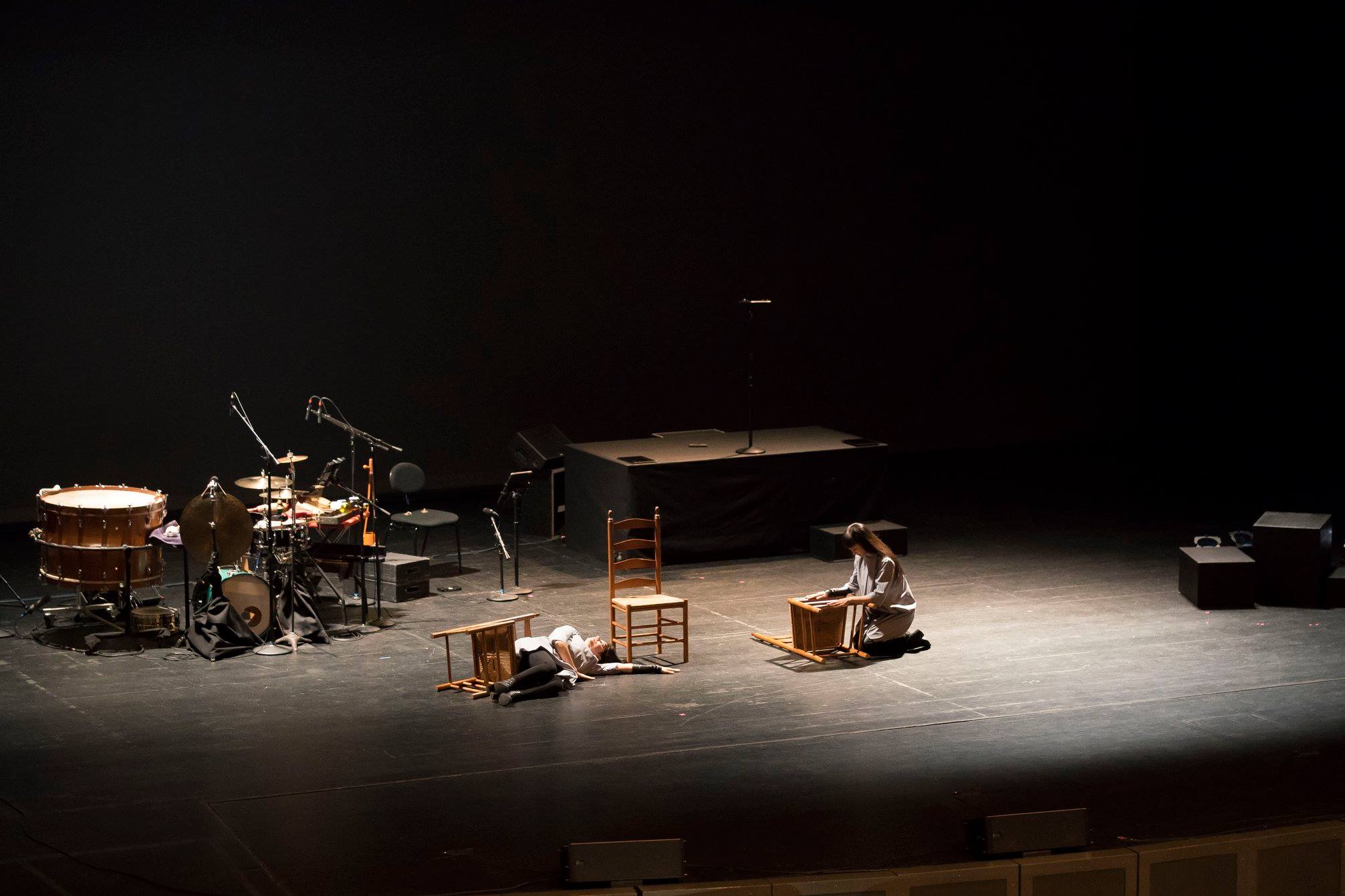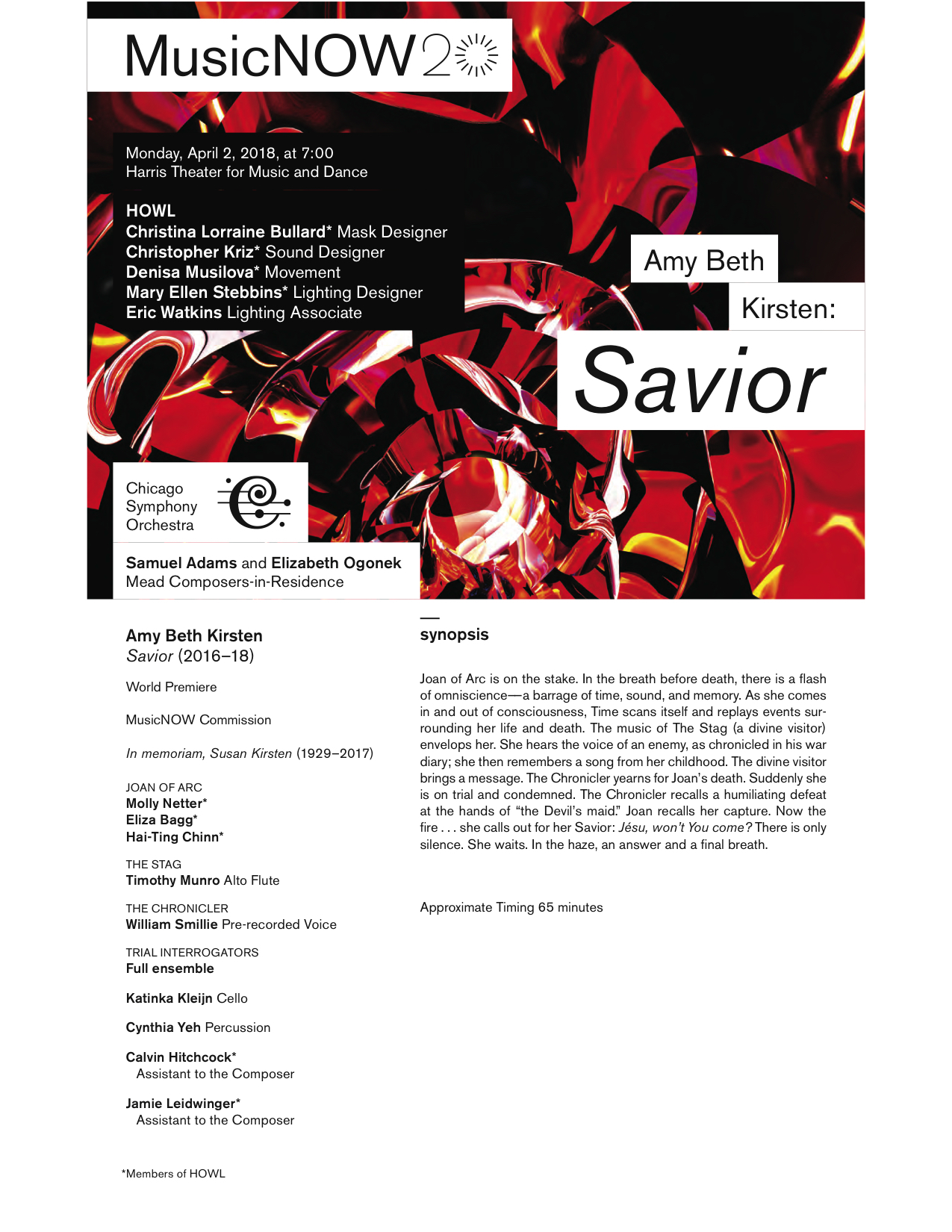 (photo by Denisa Musilova, 2018)
About Savior
"absorbing" "powerful" "mesmerizing" "splendid" - John Von Rhein, the Chicago Tribune, Apr 3, 2018
Savior is an evening-length theatrical work inspired by the life and death of Joan of Arc. For two sopranos, mezzo-soprano, alto flute, cello, percussion, and pre-recorded voice, Savior premieres on April 2, 2018 at the Harris Theater for Music and Dance. The world premiere performance is a collaboration between musicians of the Chicago Symphony Orchestra and HOWL and was commissioned by the Virginia B. Toulmin Foundation for MusicNOW.
FEATURING:
Molly Netter, soprano; Eliza Bagg, soprano; Hai-Ting Chinn, mezzo-soprano; Timothy Munro, alto flute; *Katinka Kleijn, cello; *Cynthia Yeh, percussion; William "Sandy" Smillie, pre-recorded voice.
Composed and Directed by Amy Beth Kirsten
Christopher Kriz sound design
Mary Ellen Stebbins lighting design
Denisa Musilova movement design
Christina Lorraine Bullard mask design
*musicians of the Chicago Symphony Orchestra
PRESS:
- Chicago Tribune, Apr 3, 2018 (link)
MusicNOW premieres Kirsten's 'Savior'
With "Savior," the latest in a series of multimedia works Amy Beth Kirsten calls "composed theater," the Illinois-born composer has fashioned an ingenious, absorbing and quietly powerful retelling of the life and death of Joan of Arc that succeeds remarkably well on its unique, genre-melding terms.
The hourlong piece, a MusicNOW commission that had its world premiere in a collaboration between Chicago Symphony Orchestra musicians and members of Kirsten's Connecticut-based ensemble HOWL Monday evening at the Harris Theater for Music and Dance, works obliquely, drawing on the spare power of abstraction and stylization to fuse multiple conceptual elements into a ritualistic piece of music, theater, speech, sound and movement.
"Savior" uses three singers (two sopranos and a mezzo, as the voices of Joan), alto flute, cello, percussion, prerecorded voice, lighting and sound design to evoke the martyred Joan's experiences as she drifts in and out of consciousness moments before her death at the stake. It unfolds in nine continuous scenes. We experience her visions of God, readings from the war diary of the English commander determined to defeat Joan's army and execute "this fair-faced demon," and the voices of the interrogators who condemned her for heresy (the scene a brilliant cacophony of garbled absurdities).
Kirsten's eclectic score gathers its strength from a mixture of jazzy, driving rhythmic ostinatos for cello (Katinka Kleijn) and percussion (Cynthia Yeh) in the trial scene, the piercing purity of the women's voices singing in dissonant harmonic intervals, and, most striking of all, the flute playing of Tim Munro.
The flutist, a former member of the Chicago ensemble Eighth Blackbird, took the mysterious role of the Stag, whom Joan sees as a divine messenger and believes will save her from death. Sporting a mask with illuminated antlers, Munro played, flutter-tongued, grunted, snarled, spoke and emitted all manner of other explosive sounds through his amplified flute, his performance a virtuosic tour de force if there ever was one.
Hardly less mesmerizing were the three Joans — sopranos Molly Netter and Eliza Bagg, and mezzo Hai-Ting Chinn — accomplished singing actors whose ecstatic a cappella trio in the ninth section, "Fire," sung in French, was hauntingly beautiful and dramatically powerful. This listener won't soon forget the aching theater-poetry of the final scene, with the heroine's repeated cries of "Jesu," the stage fading to black and a single spotlight illuminating Joan's face. Her faith in God is undimmed to the very end.
Kirsten's stage direction was as sure-footed as her score and scenario, and she deserves immense credit for avoiding visual cliches — no projections of crackling flames or clashing armies, no projections of any sort, for that matter. Just as the composer capitalized on minimalist abstraction in her staging, so, too, did her sparing use of cello and percussion enhance the multilayered poetry of her libretto. Take a bow, Kleijn and Yeh.
"Savior" proved to be a splendid addition to MusicNOW's 20th anniversary season.
John von Rhein is a Tribune critic.
Harris Theater, Chicago (lobby)
photography by Todd Rosenberg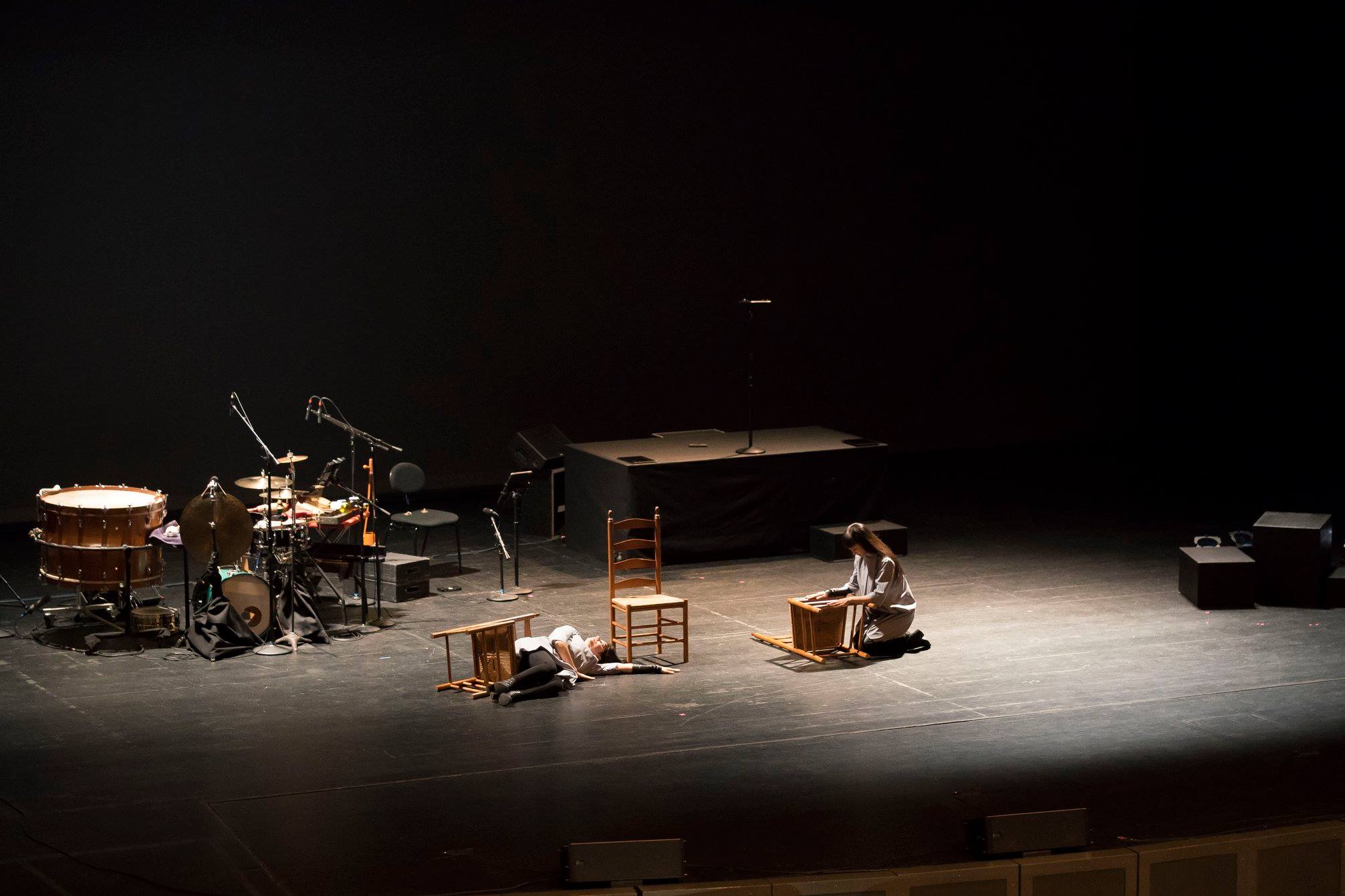 pre-show (with sound design)
photography by Todd Rosenberg
sc. 1: breath
photography by Todd Rosenberg
sc. 2: visitation
photography by Todd Rosenberg
sc. 3: roses (childhood song)
photography by Todd Rosenberg
sc. 4: the chronicler (with pre-recorded voice)
photography by Todd Rosenberg
sc. 5: visitation
photography by Todd Rosenberg
sc. 5: visitation
photography by Todd Rosenberg
sc. 7: trial
photography by Todd Rosenberg
sc. 9: fire
photography by Todd Rosenberg
sc. 9: fire (ending)
photography by Todd Rosenberg
sc. 11: visitation
photography by Todd Rosenberg
sc. 11: visitation
photography by Todd Rosenberg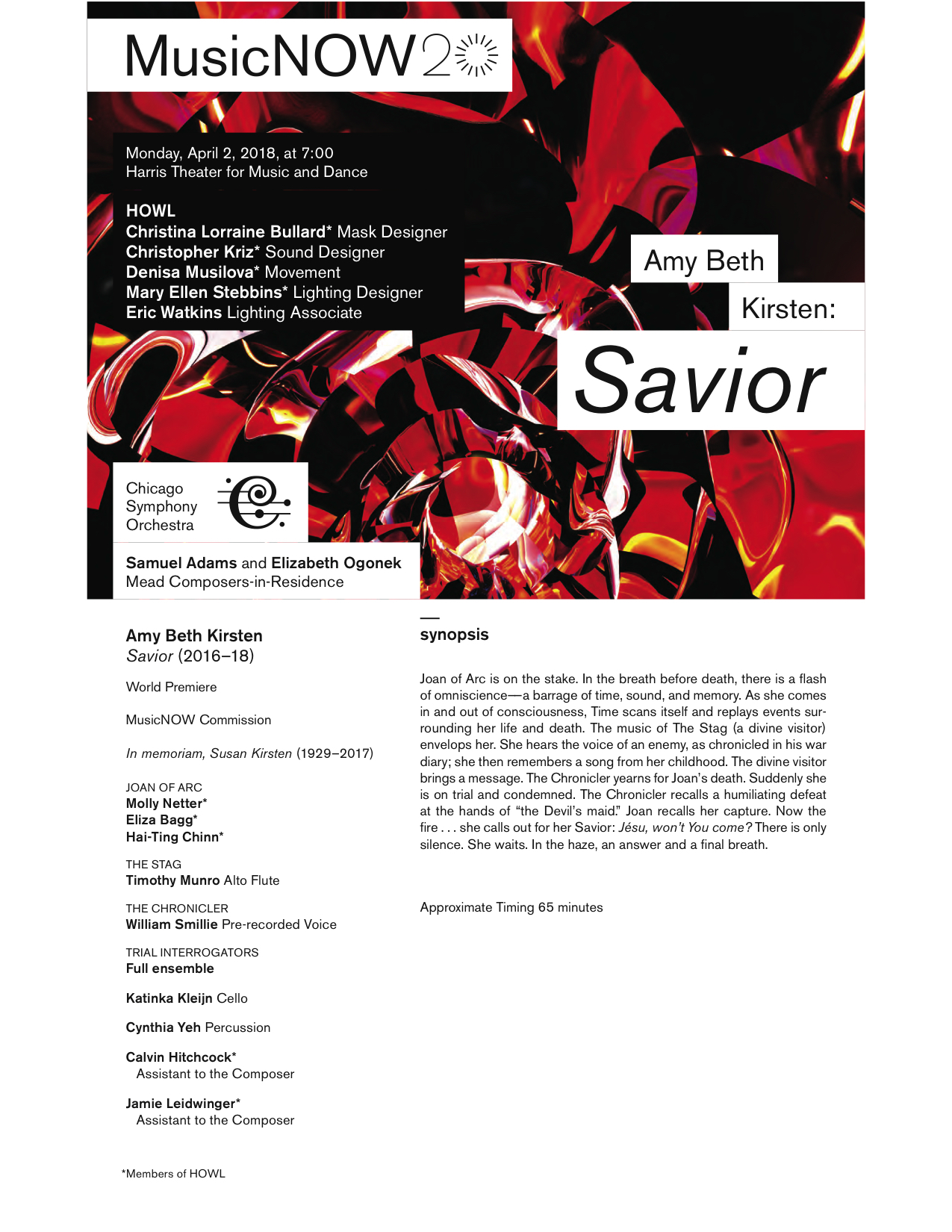 CSO MusicNOW program book